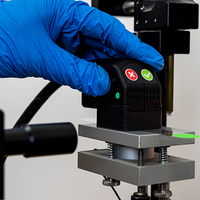 For the best service, please review our Subscription Service Options which include an annual calibration, a full instrument warranty, priority handling, and much more.
Keep your instrument preforming at the highest levels and maintain your manufacturing compliance with an annual instrument calibration.
Includes a 50-point device inspection
The Surface Analyst's measuring performance is verified for accuracy using a precision laboratory balance and LabVIEW software
Contact angle is verified using a benchtop goniometer
New water cartridge is provided in the device
This is only designed for the SA2001, SA3001 or SA5001 instruments. Brighton Science recommends having your instrument calibrated annually to maintain accuracy. Customer is responsible for shipping the instrument to us, customs, duties and taxes (if applicable). We will ship the instrument back when completed.

For more information on differences between calibration options click here.
The first step of starting a calibration is right here. After purchase, you will receive an e-mail to send in your instrument.  Please wait until receiving this e-mail before sending your instrument to us.
More information and next steps for service are listed
here.